Esperanto

It's strange that I would end up eating on Avenue C twice in less than a month. When I was on my way to Cafecito, I was thinking how no one I know lives in the East Village anymore. The only current residents I could come up with were a friend's old boyfriend and current datee. And as it turns out, the old boyfriend who had a room barely big enough for a twin bed is finally moving (to Williamsburg, duh). I was attending his birthday/going away party, and well, for the time being he lives above Esperanto. Dinner solved.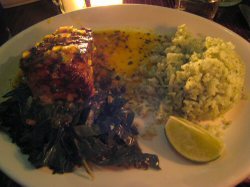 I was under the false impression that Esperanto was Cuban but it's really a mishmash, as evidenced by the name, I suppose (I was just trying to explain what Esperanto was to my Spanish tutor and I swear he thought I was making it up). If anything, it leans towards Brazil. The kale that came with my tuna and cilantro rice was a tip off, and the seafood moqueca  my softening vegetarian friend ordered was full on Bahian. My two other dining companions had red snapper and pork chops, which are broadly pan-Latin. Same went for the ceviche, plantain-crusted goat cheese and mixed tapas starters.
I wasn't that hungry, probably because I'd eaten a late lunch of leftover ma la intestines from King 5 in Flushing (I'll admit there's something perverse about another's intestines ultimately being in your intestines) so I was feeling kind of blasé about my food. I did appreciate that my orange-chile sauced tuna really did come out rare—there's nothing worse than a dry fish wedge. But everyone I was with seemed more than happy with their orders and crowd pleasing is no small feat. Even though the scene was a little frenzied, service was gracious and the food really wasn't typical late-night dreck designed for an audience more concerned with drinking.

Plus, you've got to love a place that puts a painting of itself inside the restaurant.
Esperanto * 145 Avenue C, New York, NY