Alma

1/2 I'm still not al fresco crazed or warm weather loving and I still kind of hate eating outdoors (which is hard to reconcile with my love of street food and blazingly hot countries) but it was balmy, not hot for those few days last week. Plus, Alma is walking distance from my apartment so it didn't take much effort to get there and up on their roof deck.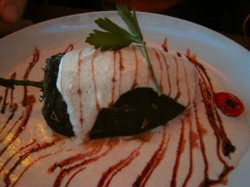 You kind of have to ignore the stevedoring (I'm still not sure what this exactly) that stands between you and the reason for eating at Alma: the up close Manhattan views. Some would say the skyline overshadows the food but it's fine for what it is.
I shared a chorizo, potato and goat cheese quesadilla, which was good enough to prompt James to recreate it a few nights later.
I didn't taste the poblano relleno but it photographed a little better than the quesadilla so there it is. 
I also had a simple grilled shrimp dish with cucumber-mango salsa, pickled red onions and chipotle sauce. Warm corn tortillas come on the side. I'm always distressed that I'm given too many and then I worry about wasting (at realer Mexican restaurants you'll frequently get an impossible stack). This was the first time the opposite happened and could've used an extra. Oh well. (4/24/07)
Outdoor dining doesn't do much for me. Call it al fresco, and I'm still not convinced. I'm a slave to climate control and paranoid about being watched while eating (the latter makes it difficult to eat alone in public). There's something terribly unappetizing about being on sidewalk display while dining. Gardens can be alright, and once I ate on a pier, but that was Thailand so that doesn't count. Alma's rooftop, however, suited me just fine. In fact, I think it elevates the food a bit (pun not originally intended).
It probably wouldn't be too traumatizing if they had sidewalk seating since their Columbia St. location isn't a slave to copious foot traffic . I like that isolated yet city-close part of Red Hook or Carroll Gardens West–whatever it's called for the sake of cache.
The soft-shell crab special I ordered turned out to be scallops, which is majorly different and would be a deal breaker for anyone with normal ordering and serving standards. But I dealt, and had fun despite myself (perhaps because the meal was a treat from my out-of-town sister). The cuisine is mildly upscale Mexican-mahi mahi and duck breast make appearances. Honestly, I'd be happy with a cheapy torta, but that doesn't come with the atmospherics. (4/28/07)
Alma * 187 Columbia St., Brooklyn, NY