Taqueria Coatzingo

This is one of those unassuming places that I thought for sure I'd mentioned before, so I'd just rattle off a mini update. It looks like I've never said a peep about Coatzingo, though. Allow me a few words.
Many say the specials are the way to go. I believe that but could only snack because I knew I'd have to eat dinner in the Bronx in a few hours (Joe's Place, for which photos only will have to suffice). My between meal time would only last as long as I could kill time at the Riverdale Target (which I was imagining could be no worse than the most busted in the universe downtown Brooklyn location—it was about on par and possibly worse, all the large sizes were gone because 85% of the shoppers were also XL and beyond. I did get asked my advice on a high school graduation dress, which was cute but seemed a little casual for such a ceremony, then I remembered that I'd worn knee-high motorcycle boots to mine because I thought I was badass, so cheerily agreed, "yes, that would be a great graduation dress.")
I did write down a few specials listed on the clear plastic encased stands on each table (actually, not our table, which didn't seem intentional. Not to over personalize everything, but very frequently I also seem to get the only table that's either missing a candle or has one that's burned down to a nub). They're not in English like the regular menu and a few stumped me. Pansa blanca and pansa negra, I think are like blood pudding. Huazontles, I had no idea, but it seems that they are a wild green similar to broccoli. I understood mushroom quesadillas and tripe tacos (which I ordered without realizing they were a special). There were about five other dishes to pick from.
I always order three tacos when I really only need two. I went right to left, and luckily, the first, tripa, was best. My hunger had waned by the time I got to the poor al pastor and it didn't get my full attention (though, of course I ate the whole thing because I hate wasting food even if it's $2 food that I get reimbursed for). I've never had a tripe taco, not because I'm grossed out but because I figured it would be boiled and boring. It wasn't. Honestly, I'm not sure how it was prepared but the strips were meaty, gelatinous and crisp. Lots of variety in a little package. I normally like carnitas the most, for the same qualities I found in the tripe. Their rendition was as good as any.
If you're wondering what that tangle of lettuce, salsa verde, cream and carne asada is, it's a huarache, like the shoe but not. Capezios, jellies, pointy flats (god forbid, Docs) are all back or coming back, so why not the huarache?
All was fine until two "Stellas" (named for a neighbor who's incredibly demanding, frequently wronged, disproportionately assertive) came in and made a fuss about wanting taco salad. The waitress did speak English so it wasn't a language barrier causing confusion, though the women seemed to think that was the case. Despite our big mess of a melting pot, cultural sensitivity isn't one NYC's strengths. And I swear I heard some snippet about, "you don't have to discriminate against us." Wha? How is not having a taco salad on a menu offending anyone?
While in Hong Kong I ate at a former speakeasy Sichuan restaurant Da Ping Huo. You needed reservations, it was mildly sequestered, omakase-style ordering, and intimate (we were actually the only two diners the entire evening). While we were dining this large British family walked in off the streets and threw a fit because there weren't any menus. It started getting very uncomfortable as they began harassing the waiter like they'd never heard of something so absurd as a restaurant without a list of dishes and prices.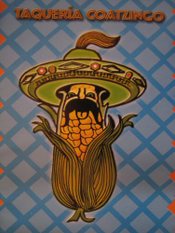 Finally, they left in a huff. I felt bad for the staff because they barely spoke English and then they felt bad and began apologizing to us for having to witness the situation. Sheesh, you're the one who is ignorant so why are you making everyone around you feel like shit?
Anyway, I didn't leave Coatzingo feeling like shit. Perhaps, just a little full. I also must note that they must be doing good business. Sure, it was filled to capacity our entire meal, but the mark of making it is their new-to-me glossy, technicolor take out menu. Thankfully, they kept the mustachioed corn ear with a sombrero logo. I like to imagine that if he had a catchy name like he should it would be Maizstro (pronounced like maestro). Anthropomorphic pitchmen aren't so in anymore, maybe he could start a revival.
Taqueria Coatzingo * 76-05 Roosevelt Ave., Jackson Heights, NY