Listo el Pollo

1/2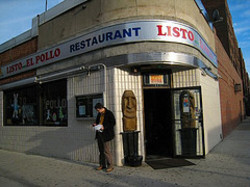 I would be talking out of my ass if I called Listo el Pollo the Colombian Hooters because I've never been to a Hooters. But I'd like to imagine that this Jackson Heights oddity is better than a Hooters. They've mastered out the ok food, made better than ok by young waitresses in skimpy attire approach. That might've been enough in its own right, but the restaurant also appears to be a former tiki lounge that was lightly, if at all, redecorated to reflect the Latin American cuisine.
I suppose it's possible that bamboo, coconuts carved into monkey faces, palm trees and Sex on the Beach drinks (I was confused by a cocktail simply called Alexander—that's like vodka and tomato juice being dubbed Mary) could be found in Colombia. On the other hand, there's nothing Polynesian about the white, ruffly grandma curtains that make each booth feel like a private paradise. That must be the Colombian touch.
Really, the ladies' costumes are more campy than sexy, sort of a pirate/dirndl hybrid (I witnessed something similar in Hua Hin, which I didn't realize was a German expat stronghold and lots of the restaurants served muesli and sausages and had Thai waitresses gussied up in dirndls) composed of a short skirt and corseted top. I'm not one to be bold with photo taking so my only evidence is a stealth shot with a server in the background. Sure, there were some groups of guys there for the ogling but mostly the clientele is composed of families and couples.
In my limited but rapidly expanding Colombian food experience it seems that they truly are the masters of the large combo plate. I stuck with the roasted chicken and ordered a half when ¼ would've been sufficient. For $6 and change it was a bargain, coming with white rice, fat pink beans dotted with pork, and a boiled red potato (I was hoping for something starchy and fried) and a tough nugget of an arepa.
James got the whole bandeja shebang with steak, chicken, pork, yuca fries, plaintain, arepa. Maybe more, I can't remember. We also got a little white pitcher of herbier than spicy salsa and salads with a selection of Kraft dressing packets. At least we had a choice between Italian, French and Ranch–at Honduras Maya we just got a plastic bottle of Kraft Italian, no options.
We also ordered Coronas, which came preparado, a new concept to me where they're served in salt-rimmed glasses over ice with a slice of lime. It was no Alexander, but it sufficed.
Atmosphere can be half the battle with many restaurants, a poor one will piss me off for life even if the food is superior, while a fun one will elevate an otherwise ordinary meal. Listo el Pollo put me in an unexpectedly good mood for which I have to give them high marks. Plus, my inexpensive dinner provided me with lunch the following day.
Listo el Pollo * 8602 37th Ave., Jackson Heights, NY