Ferdinando's Focacceria

In the three years I've lived seven blocks from Ferdinando's, I've never paid a visit. Part of that was oversight, though to a small degree it was intentional. I like that cuspy little area west of the BQE that's mostly Carroll Gardens and a little bit Red Hook. I have tried Bouillabaisse 126, Schnack and House of Pizza and Calzone, all on the same Union Street block as Ferdinando's so it was time to be all inclusive.
I was always a smidgen intimidated by the place, the peculiar hours (which also used to be the case with HOPAC's previous incarnation), the old-schoolness, and never mind the fact that I almost never ever eat Italian food. Brooklyn Sicilian sounded ominous in a no outsiders way. I don't mean that as a cultural stereotype. But occasionally you get whiffs of local/townie animosity in NYC. P.J. Hanley's, also in the neighborhood, certainly had/has that reputation.
No biggie because I don't feel like I fit into any particular neighborhood anyway (though I do feel an inexplicable kinship with the M train). I've never understood transplants who come to New York City and feel an epiphanous energy and comfort like there's no place else they could imagine themselves. I can think of plenty of other cities I'd rather live in, though none are in the U.S. (I was recently informed that Beijing might seriously become a potential work-related relocation [not my work] and I'm completely open to that idea though I would be surprised if it came to fruition.)
Change is so rapid lately, that I figured I'd better hurry and give Ferdinando's a try before it turned into a condo, mediocre Thai restaurant or an Alan Harding venture.
The menu had more variety than I'd expected. Since they close so early (7pm Monday through Thursday) I thought it would be more lunchy. I'm not crazy about heavy tomato sauce and they had plenty of enticing alternatives like pasta con sarde (sardines, wild fennel, pignoli) and panelle served four different ways: panelle, panelle sandwich, panelle special and panelle and potato special. Starch and starch is my way so a chickpea fritter sandwich is definitely in my future.
I knew what I had to order though, vastedda, the peculiar and lauded spleen sandwich. I imagined spleen might be like liver or sweetbreads and would be breaded and shallow fried. Not so, the organ is thinly sliced, nakedly gray-brown and wispy like the gills of a mushroom. There was something vaguely portabella-ish about it. The offal is served on a roll with a healthy dollop of ricotta, grated parmesan and baked.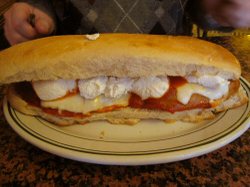 The bread, both rolls and heroes, were remarkably good, not too crusty and very substantial. No fluff. The last time I had a foreign-to-me sandwich on a real homemade roll was just last month at Chilean San Antonio Bakery. I'm lucky to have so many sandwiches to choose from.
James ordered a hulking sausage parm hero that caused our waitress to ask if we were sharing it when it arrived. Only a few other tables were occupied during late afternoon on a Saturday so I eavesdropped on the staff talking about Grindhouse and the Yankees, which came in snippets. Every so often someone would switch to Italian and throw me off.
The only tragedy of the meal was that I'm pretty sure I left my camera sock behind. I'm concerned about scratching up my new camera but I hate all the cases I've seen so I started carrying it around in a sock that had been sitting in my drawer. Green argyle hearts are perfection to me so it's a mystery how they went unworn. But I noticed it was missing when I got home and my camera was bare. The beauty of socks is that they're a pair and I still have one left. I considered calling up Ferdinando's and asking if they'd found my footie but if I was already concerned about their impression of the neighborhood's gentrifying inhabitants, this wouldn't help relations any.
Ferdinando's Focacceria * 151 Union St., Brooklyn, NY