Malagueta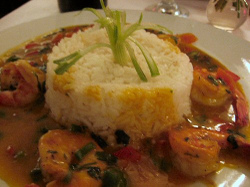 I was semi-secretly relived that when I arrived in Astoria around 8pm, the restaurant had run out of the Saturday-only feijoada. I felt a little bad because I've never tried the Brazilian national dish and not many places in NYC do it, instead they frequently opt for the rodizio-style parade of skewered meat until you're ill approach (which reminds me of what I think was my second Valentine's Day celebration with James when he took me to Churrascaria Plataforma, which seems more wrong now than it did at the time. I've grown picky with age—I used to be thrilled to be taken out anywhere. Valentine's days never end up being terribly romantic, at least in my world, but all-you-can-eat grilled beef certainly doesn't help matters). I'd eaten Argentine parillada the evening before and had used leftover skirt steak and sausage enhanced with an egg and potatoes for breakfast (eating light is a tough concept for me) so I was meated-out for the rest of the weekend.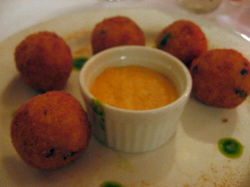 At Malagueta, a warmer, cozier place than I'd expected, I tried the moqueca de camarao, a Bahian-style shrimp stew with palm oil, onions, peppers and coconut milk over rice. More Afro than Latino. I always thought dende was one of those sure to kill you fats but at least they were being authentic. Sometimes I hate it when restaurants use olive oil when it had no place in the cuisine. The dish was fairly light, slightly New Orleans-ish and thankfully free of grilled meat.
For an appetizer, I had fried cheese-rice balls with an orange dip that's similar to what accompanies a Bloomin' Onion. That's a good thing but I felt a little guilty so I split them with James even though he had a green pea soup of his own. I'm not sure how Brazilian these fritters were, but Malagueta isn't purist.
They use the term continental to describe some of their cooking, but that phrase has such derogatory connotations. James's pork loin with mashed potatoes and bacon vinaigrette wasn't like bad hotel food.
Everyone around us was mad for the chocolate mousse, to the point where diners waiting for seats were saying, "I hope you save some chocolate mousse for us" to the waitresses. Strange. I'm not nuts for pudding-ish sweets, too soft in the mouth, no texture. But we got the mousse anyway and well, it tasted like rich chocolate. No complaints.
Malagueta * 25-35 36th Ave., Astoria, NY