Mancora

Not counting vacations (because I force myself to wake up earlier) I probably only eat breakfast or brunch out like three times a year. But I hadn't/haven't gone grocery shopping in over two weeks so the food situation had become dire (sort of, there are two freezers full of things like chicken breasts, pork dumplings, lime and curry leaves, duck fat, Italian sausage, morcilla [I ate that last night with chickpeas, dried cranberries, pinenuts, garlic, parsley and lots of olive oil—so good I'll eat some more tonight] two whole chickens and short ribs, and a shelf brimming with forgotten dry goods like cherry jam, Jacques Torres Wicked Hot Chocolate, Indonesian krupuk, lentils, black beans, kidney beans, Moose Munch, Iams cat food, four varieties of wild rice, weirdo South American grains and dried corn that never ever get used, rendang in a box, low fat coconut milk, canned turnip greens, decaf Starbucks coffee and way way more) enough to warrant dressing before noon and fighting the Sunday brunching brigade.
I tried to come up with nearby options that might be unpopular yet still tasty. Irish breakfast at the recently revamped Ceol came to mind (as evidenced by my morcilla bender, I'm all about blood sausage). This was the original plan but on our detour to Rite Aid for cold medicine we passed Mancora and were intrigued by the sandwich board advertising a $8.95 brunch with beverage. Peruvian for breakfast seemed about as safe from crowds as Irish, so we gave it a go.
The place was practically empty, save for the Hispanic dudes getting an early start on New Year's Eve at the bar. Eventually, your classic white guy with his Asian gal came in (all restaurants in gentrified Brooklyn neighborhoods must have at least one such couple) so we didn't feel so lonely.
Where a Mexican place would give out pre-meal chips and salsa, here you get fried plantain chips with a creamy, lightly spiced orange and green dip. We both ordered egg dishes that came with lukewarm, sweet purple rice studded with plantain chunks. It wasn't bad and I'm a sucker for food in unusual colors (I can see it grossing out people though. I was recently so dismayed to see all these freaks bothered by this emerald green macaroon that I left a pro-green cookie comment and I rarely get involved in these petty matters, and now it looks like all comments have been deleted). I don't think the rice is naturally purple, despite the fact that purple potatoes and corn do grow in Peru. Maybe it was made with chica morada? I once made purple rice using grape juice, so who knows.
James had a steak and egg thing that came atop English muffins but wasn't eggs benedict. Mine was more benedict-like but instead of muffins I received eggs sitting on silver dollar sized quesadillas filled with spinach and cheese and drizzled with a chile hollandaise. It was actually kind of creative, more than I'd previously given Mancora credit for.
The food reminded me of the type of fare a chef would come up with (not so much Gordon Ramsey on his Kitchen Nightmares, which appears to be casting in NYC this very second) on Restaurant Makeover to shake up an eatery in a rut and attract new clientele. With a so-so but strong bloody mary (or mimosa or sangria) included in the price, the brunch is a pretty good deal. (12/31/06)
Bottled chicha morada photo from Slashfood.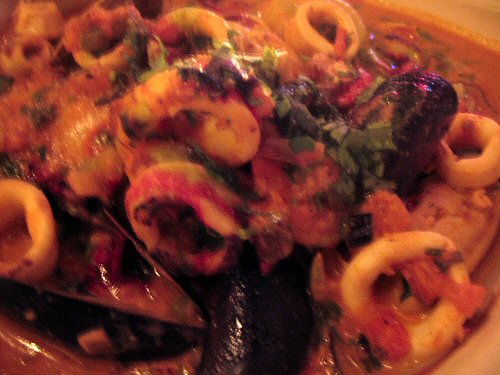 I'm not particularly enamored by Smith Street's so-called restaurant row. It's not Brooklyn Heights or Seventh Ave. bad, but there's a lot of mediocrity. Or maybe I mean lack of diversity-a girl can only take so many bistros and Thai joints. I finally decided to give Peruvian a chance. That cuisine didn't do so well for Cholita, which used to be practically across the street, but Mancora has proven to be a stalwart and was able to do the reverse commute thing by branching into the East Village a few years ago.
The service was harried and initially it was hard to get past that. With only one waitress (a waiter/busboy showed up halfway through our meal) it was a bit of a nightmare to get our order taken. I tried not to get antsy and we ended up nixing the appetizer course out of fear of spending hours and hours to complete our meal.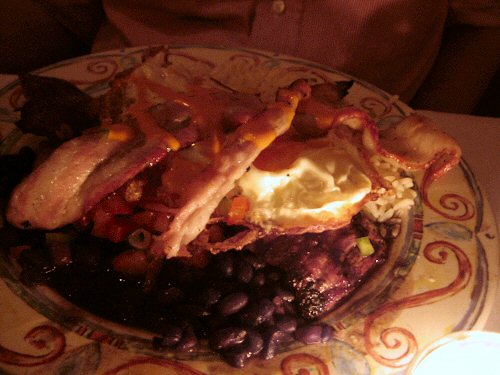 But when we did eventually get our food, it was satisfying. We ordered very different things. I had a saucy dish of red snapper that was topped with seafood that included clams, mussels, shrimp and squid. The broth was rich and mildly spiced and came with a side of rice (don't be put off by the murkiness in the photo–that's what happens when an amateur snap-shotter encounters candle light). James ordered a steak that was completely breakfast-y with fried eggs, bacon, maple syrup, plantains and beans smothering the meat. It was quite a medley of competing flavors.
I don't feel the gnawing urge to return in the immediate future, but the prices seemed more than fair and I wouldn't mind going back for ceviche and a pisco sour. (6/29/06)
Mancora * 176 Smith St., Brooklyn, NY