Nicky's is just what I had expected from a BoCoCa (I said it) banh mi: lacking compared to its Chinatown counterparts, a touch pricey, yet acceptable in a pinch. There's nothing appalling about them and the busy spot seems welcome on Atlantic Avenue.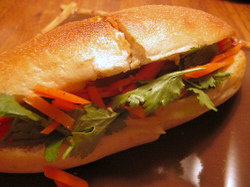 Their stubby subs are smaller than usual and the classic is a buck more ($3.95) than at most of the Sunset Park storefronts. I can't put my finger on it, but there's something wimpy about these sandwiches, maybe the bread is too airy, maybe it's the fillings. They look okay on the surface but something's missing (no, not love—I really hate the concept of passion transmitting from body to food like a sentimental lightening bolt). I only recently discovered the grilled pork version at my favorite shop, Ba Xuyen, so it's hard not to compare it to Nicky's pork chop rendition, but there's something more flavorful, possibly sweeter about Ba Xuyen's rendition. Crushed peanuts never hurt.

Classic cross-section

Pork chop cross-section
One sandwich is often just right, but after eating an entire Nicky's hoagie, I felt unsatisfied and had to stop myself from tearing into the second one I'd bought for the next day. On the other hand, the spice level was higher than I'm accustomed to. I'm not sure if I got overactive jalapenos or if they just used more.
I'm not complaining because I'm happy to have banh mis encroaching South Brooklyn at all, though I wish Nicky's wasn't so close to Hanco's and more selfishly, near the Carroll St. station. They do satisfy an urge and beat having to spend Metrocard fare, but I wouldn't call either of these relative newcomers convenient. Anything over a mile is an effort, not a jaunt (Nicky's is 1.3 miles from my apartment, which feels much further than the 1.1 miles I used to frequently walk from my former apartment to Ba Xuyen. I think it's all the Cobble Hill strollers–baby carriages and pedestrian slow pokes–clogging up my single-minded path).
Nicky's Vietnamese Sandwiches * 311 Atlantic Ave., Brooklyn, NY