Sheep Station

I'm all for new restaurants brightening up bleak strips of Brooklyn. I fruitlessly waited for something cheerier than White Castle, KFC or Twin Lin's Chinese take out to bless Fourth Avenue in the no-man's-land 30s where I lived for three years. Not even mild gentrification brushed that anonymous swath of Sunset Park that's increasingly referred to as Greenwood Heights.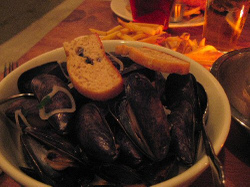 Upper Fourth Avenue appears to be having more luck. Sheep Station is the latest in what appears to be an Australian-ish boomlet (Wombat has possibly opened in East Williamsburg, and Carroll Gardens West's DUB Pies, East Village's Tuck Shop and Lower East Side's Bondi Road aren't all that old). I use ish in this case because the food isn't overwhelmingly Australian (I was tempted to earnestly ask for a Bloomin' Onion and Kookabura Wings). The fish of the day was barramundi, a meat pie was on offer and the burger comes topped with beets, pineapple, and a fried egg (which I'm assuming is de rigueur down under and not simply bizarre without reason) but generally the cuisine feels pubby.
By 10pm, when we arrived, there was a decent crowd, mostly drinking not eating. We opted to sit in the eerily cavernous back room (I know, I complain about being cramped and then I freak when given too much space). Facing edges of the rustic fireplace-warmed brick and concrete space contain tables, and a birthday party brigade occupied the comfy looking corner nook. The empty middle of the room seemed like it needed something, either more tables or clumps of milling drinkers. By 11pm we had a private dining room.
I went generic and ordered mussels and fries, while James had the fish and chips. Both entrees were solid renditions and fairly priced around $12, as I recall. The menu isn't huge, which furthers the impression that Sheep Station is more of a bar that serves food (it's hasn't been referred to as a gastropub for nothing) rather than a full blown dining destination. But it's a worthy stop if you live in the vicinity (or have been suckered into staying at the lovely new Gowanus Holiday Inn).
The only weirdness occurred when we ordered off-tasting pints of Blue Point Toasted Lager. Despite hailing from the world's microbrew capital, I'm no hops-crazed know-it-all. But I knew enough to detect that something was amiss with the flavor in my glass. I can't put it into words but it was plastic-like, possibly chemical, definitely not natural. Maybe it was just soap. I loathe raising issues with food or drink (thank god I'm no longer vaguely in P.R. where making a fuss and sending things back seemed like standard practice during company lunches) but we had to say something or else we'd wonder about it all night. We were gladly given different beverages, Coopers Pale Ale in bottles, but I know we were then pegged as diners who couldn't handle strong flavors, as it was explained to us that it was a fresh keg and the beer was "extra toasty."  I know what toasted might taste like and that wasn't it. Now, I feel compelled to track down a six-pack of Blue Point Toasted Lager to prove that I'm not needlessly high maintenance.
Sheep Station * 149 Fourth Ave., Brooklyn, NY