See What I Mean?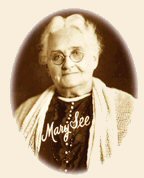 See's isn't exclusive. There's nothing Michel Cluizel or Fauchon about it. Old (long-dead) Mary See doesn't taunt you with one coveted U.S. flagship, her milk chocolate legacy can be found at practically any mall…as long as you're on the west coast. There's not really anything gourmet (or whatever that dated adjective implies anymore–I suppose artisanal or organic would be more a la minute) about See's candy but they're one of my favorite treats in the world.
And I do mean the world. I was almost crazed enough to cough up roughly $40 for a pound when I unexpectedly found a shop in a Kowloon mall. Being away from home, even for a short period, will do that to you. On my first visit to England eleven years ago all I could think about were those sugary, shortening-laden sheet cakes from any American grocery stores that usually have a lemon or raspberry jam stripe in the middle. I suspect I was having a reaction to the fruitcakey, marzipan topped wedding cake I'd been subjected to on this trip (here's a photo of such a beast from my sister's wedding #2–I obviously didn't "photoblog" the first). I might be one of the few freaks in the universe who actually likes fruitcake, but light and frivolous it is not.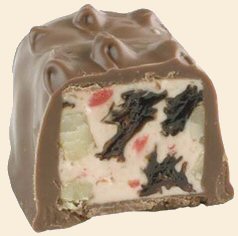 I was thrilled to find a hand-picked box (as opposed to the standard assorted variety) in my mailbox (ok, on the little table that's been put in the foyer because the mailman apparently thinks 11231 is still a ghetto zip code rather than half-gentrified and filled with merciless complainers who aren't accustomed to shoddy service [seriously, I think we're intentionally getting shit because tenants have told on this guy so many times] and throws 85% of our building's mail on the ground rather than opening up the boxes) from my mom a few days ago. We occasionally received a box for Christmas as older kids (we got Whitman's samplers when younger) but Halloween is new to me. It's a tradition I could get behind, though.
The last See's candy I was exposed to was a Christmas season two-pound gift box sitting on the table near my desk, two jobs ago (and I wonder why I'm having such a hard time getting past HR now. Three jobs in one year raises countless red flags). It was during the transit strike when I walked eight miles on top of taking the PATH to and from work, so I somehow justified eating Scotchmallows, Apricot Delights and Polar Bear Paws, throughout the day. Unfortunately, sitting around the house on a Saturday like today I have no excuse for that kind of gluttony.