Yes, I love chains in the U.S. (and Canada—go Tim Hortons) but I wasn't sure if that was the best behavior to indulge in while in Barcelona. And they have enticing chains too. I was fascinated by all the bocadillo shops like Sandwich and Friends (what's better than friends and sandwiches?), Pans & Company and Bocatta (which we did try on a whim one late night).
After gawking at all the moderniste architecture in the Eixample we wanted a low key lunch, but that strip of the ramblas is like tourist trap central. I scoured one of our guidebooks desperate for a regular, non-fancy, non-fast food option. Mildly hidden on a downstairs corner, La Bodegueta was totally it. (Here's a photo, not taken by me or anyone I know. I never remember to take shots of interiors or exteriors—I get all caught up in the food.)
I wouldn't call it a dive, like I think some have described it. It's sort of no frills and rickety, maybe more the Spanish equivalent of a faded American diner with a touch of cafe. They did have a three-course menu del dia like I think all restaurants in Spain are mandated to offer during lunch, but we just wanted glorified snacks so we ordered manchego and chorizo bocadillos, halves to be swapped so we'd get a little of each, and patatas bravas to share. Oh, and a bottle of Voll Damm. I noticed a lot of people ordering what I think are called claras. Akin to an English shandy, the drink consists of beer mixed with lemonade. I'm very when-in-Rome, but I wasn't quite convinced of that beverage.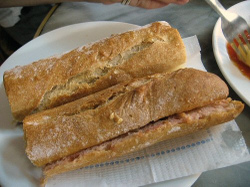 I've noticed that patatas bravas are always kind of different in NYC. I don't know if there's a standard in Spain either. My favorites I have had here were from Tia Pol. These came with separate dollops of aioli and tomato puree. The bocadillos were as spartan as can be. The bread is coated with squeezed tomato juice and drizzled olive oil pa amb tomaquet style and then filled with one ingredient. Meat, cheese, whatever, but that's all, no extras. It's the anti-NYC deli sandwich in girth, though not completely unrelated in simplicity. Bread, meat mustard is pretty bare bones when you think about it.
La Bodegueta * Rambla Catalunya, 100, Barcelona, Spain