Out with the Old, In with the New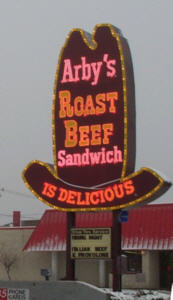 I'm so out of the loop. How could I not know about this new mall development in Glendale? I love me a Queens mall, but there's something a bit off with The Shops at Atlas Park. For one, I have no idea what half of these stores even are. Crazy for Animals? Amish Fine Food? White House-Black Market?! What the hell? These are not the chains I'm accustomed to. That's what happens when you build a mall where no subway goes. And Chili's is no great shakes. They don't even have a theme. Er, or are baby back ribs their calling card?
After the lack of Sonics anywhere 100 miles from here, I got on an Arby's bender because they're another one of those fast food companies that advertises on TV yet has (almost) zero NYC presence. And I'm dying for a beef 'n cheddar. I used to eat a beef 'n cheddar and jamocha shake almost every day for lunch as a high school freshman. Oh, and a Cherry Coke and Reese's Peanut Butter Cup in study hall (and I weighed like 70 pounds less then than I do now. No shit. More and more, I'm starting to believe that metabolism slowing with age thing).
A few weeks ago I noticed that they're building an Arby's in Middle Village, which makes me happy. But it's being constructed on the old Niederstein's spot (scroll to middle of page), which makes me sad because it was the oldest restaurant on Long Island (of course you all know that technically Queens and Brooklyn are on Long Island). Even though the food supposedly sucked, I had every intention of trying Niederstein's for at least the novelty of an old German hold-out nestled next to a cemetery, while I lived those three years in neighboring Ridgewood. But I never did it. I'll have to rectify that oversight with a beef 'n cheddar (don't forget the Horsey Sauce) in the near future.
Old style Arby's hat photo borrowed from tesg's guide to big chain road food consumption.