Sorta Big in Japan
Japanese style doesn?t necessarily conjure up utilitarian fleece, corduroy and cashmere. Maybe I've seen too much street fashion a la Fruits. Obviously, the entire island nation doesn't sport pink hair, furry legwarmers and inflatable props. Uniqlo has been described as the Japanese Gap, which I wouldn?t wholly agree with. James heard about it somewhere (lord knows where, it's not like he's plugged into fashion media) and was gunning to go because he was under the impression that it was like the Gap of our youth, meaning basics in lots of colors, more specifically cords in shades other than the dulled-down fall tones dominating places like J. Crew.
Eschewing the straight from Sweden to midtown H&M approach, Uniqlo decided somewhat strangely to open their U.S. flagship in a small scale, run-down (though currently under renovation) Middlesex county mall. Perhaps they're testing the waters in a less trend-driven suburban locale. This is my new favorite part of New Jersey. It's relatively quick from Brooklyn, through Staten Island, and not as overrun as seemingly more affluent Bergen County. For example, Garden State Plaza has Hugo Boss and Louis Vuitton where Menlo Park Mall still has an early '80s sign out front, Benihana across the street, Spencer Gifts (actually, Garden State Plaza does too) and a dollar store (where I bought a bunch of totally unnecessary candy). Edison and surrounding townships contain all my favorites like the best Hong Kong Supermarket ever, Trader Joes with wine, an un-ghetto Costco, good dim sum, tons of Indian restaurants and a Dairy Queen. Now that's living.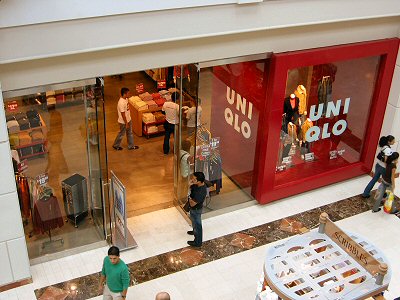 Admittedly, I happen to be a fan of the cheap, sparkly, $25 and under, six-month shelf life aesthetic. So, $79 cashmere cardigans and simple, solid color tees and turtlenecks didn't do much for me. I did, however, purchase a lightweight black, slightly fitted (perhaps a little too fitted–I was afraid an Asian XL might not be so extra or large. The predicament certainly wasn't helped by our later lunch at the on site Cheesecake Factory) windbreaker, which is sure to guarantee the torrential rain that plagued all of last week will let up. James fared better, buying up a couple pairs of pants, a butter yellow corduroy oxford, and three-for-$10 cute colored argyle socks.
I think two more New Jersey locations are in the works. I assume Uniqlo will eventually jump the Hudson. I can see it doing well with the Real Simple audience and organic baby food, no-to-little make up, SUV-owning set who inhabit my neighborhood (Carroll Gardens) and environs (minus Red Hook).
Uniqlo * Menlo Park Mall, Rt. 1 & Parsonage Rd, Edison, NJ