Newton Food Centre

I had big plans for our sixth (dating) anniversary. Originally, No Signboard Seafood, which isnt fancy fancy, but eating crab feels special. Then I was leaning towards a belated celebratory meal the following night at Opia, the new sleek "Australian freestyle" in the JIA. But we'd already splurged a bit, so we opted for low key. I didnt imagine quite as low key as a hawker center, but it just kind of happened.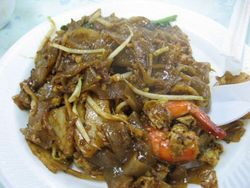 This was the only hawker center where we were really hawked at. And aggressively. I'd avoided Newton on the last vacation because I was aware it was touristy and pricier than others, but it was sort of on the way from the Night Safari and certain to be open.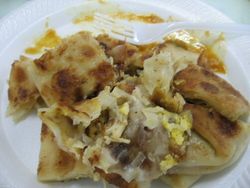 I had chicken murtabak, James the chicken rice. I later ordered char kway teow (from a woman who appeared to be falling asleep at a table, which made me wonder if cooks get really bored during down time) just to sample the Singapore style. We fended off attacks from all the pushy seafood vendors, but after seeing a young couple gorging on chile squid, mussels and grilled fish, I kind of wished we tried some, after all. I was just afraid of getting gouged by inflated prices.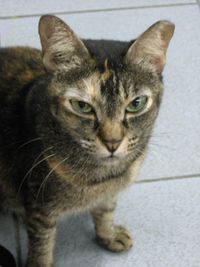 I also made a sourpuss stray cat hang out with me. He didnt take much coaxing to come over to our table, especially since no one else seemed terribly fond of him. Loose non-pet animals just dont evoke much sympathy from locals, which I can understand. But I was fascinated by S.E. Asian cats, which tend to be tinier than American felines and almost always have short kinked tails that look like theyve been chopped off or broken (I'm assuming theyre all distantly related and not hacking victims). The Newton cat wouldnt eat the satay tidbit we handed him, though he munched a few bean sprouts from our char kway teow. Maybe he was a halal cat.
Newton Food Centre * Newton Circus, Singapore