Gurney Drive Hawkers

There are moments when I feel smart and smug, but mostly I feel dumb and confused. Figuring out where the well known Gurney Drive hawkers actually set up made me feel profoundly stupid. We had taken a taxi to Gurney Plaza, the big modern mall, and passed a bunch of roadside stalls along the way, but I didnt think any of those were this specific hawker center. After an afternoon of shopping we were stymied, for some reason we didnt think the esplanade went much further, but didnt think the hawkers were behind us either. Of course, there is a bit more esplanade beyond the mall and thats exactly where the hawkers were. Maybe it was the heat, or our ragged body clocks, but we were baffled enough to almost ask a taxi at the mall to drive us there, which wouldve been really ridiculous as it was mere blocks away.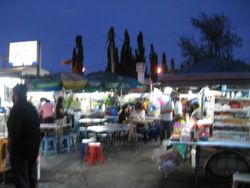 I'm still not clear how hawkers keep what you order and where youve sat straight. And why some approach/attack before youve had a chance to think and make it seem that you must order from them when I'm pretty sure you can sit wherever, at least at this particular center. After getting our bearings, we got two bowls of assam laksa. I still cant believe this was the only time we sampled this soup style (thick round rice noodles, sour tamarind broth, fish, mint, spice–its nothing like the coconutty lemak versions except in name), but with so many food choices you dont want to repeat yourself. I also got rojak, which was full of mystery items despite my watching the old and young male duo assemble my dish. I think theres jicama, cucumbers, pineapple, maybe squid, and something I later learned were water apples. I love the sweet, spicy inky shrimp sauce the crunchy wedges are tossed with. James got some little mystery fried things and a plate of char kway teow.
On a non-food related note: Penangites seem to have a penchant for loud inappropriate music, not wholly unlike how Mexican joints like blaring jukeboxes. Earlier, at the mall there had been some automobile promotion out front and really really loud hip hop was blasting. Way over the top. At Gurney, a table was set up where two guys were selling dvds and they were also letting the crowd involuntarily sample their wares. But one mans distracting is anothers enticing–they garnered a decent amount of customers. Me, Ill stick to the food.
Gurney Drive Hawkers * Gurney Dr., Penang, Malaysia