The Three Faces of Mazzola
First I started out on a highbrow roll with this heirloom tomato white anchovy salad I'd made last week out of the current Food and Wine. It was a little wet from sitting around a few days, but all the better to soak up with a nice slice of crusty French country bread.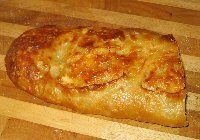 But then I broke into the cheese bread (I stopped in the local bakery Mazzola only to pick up a loaf of French bread, but then went crazy when the girl asked "anything else?" Oh, the pressure, the upselling) which is insane and pure fat. The loaf is so stuffed with aged provolone that it soaks through the paper bag with oil. And I've eaten almost half the damn thing in the three hours I've been home from work.
At least I refrained from also picking a lard bread. Yes, lard bread. I'm not sure that it's laced with actual lard (ok, it is), but there are big chunks of salami strewn throughout. Funny, I just found a reference to this bread from this exact bakery on a librarian's blog from Eugene, OR. And it must be good because based upon the stuff this person seems to usually eat they verge on vegan.  At least by NYC standards. Organic, animal product shunning is way more mainstream in Oregon.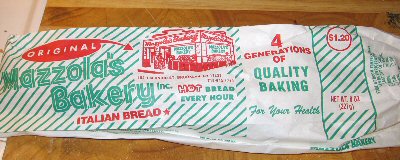 I don't know why they have so many different bags.