Goiz-Argi was a good place to start. On a Wednesday night, our first night and still getting our bearings, this compact bar had enough breathing room to survey the small selection of fairly traditional pintxos on the counter and listed on the wall.
A hit of fizzy txakoli in a tumbler (I later began ordering vino tinto or cañas, small beers which seemed to be synonymous with zurritos, which I originally thought were even smaller, because that seemed more standard with locals—there are also a lot of rosado drinkers—than the white Basque wine) a brocheta de gambas, one of their specialties, and a wildcard, simple morcilla accompanied only by charred green pimientos, no fruity purees or hidden foie gras, set my foundation for the week of eating and drinking.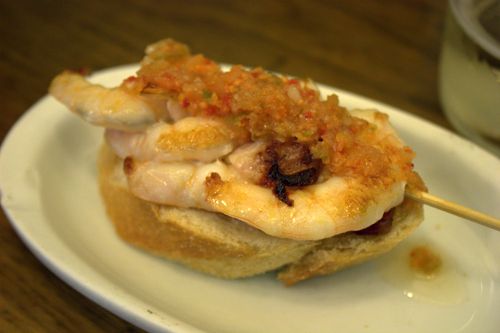 In much of Spain, at least in Barcelona and Madrid, there is the truth that only tourists go out to eat before 9pm. You look like a rube otherwise. So yes, you may not dine until 10pm but I learned the hard way that that doesn't mean the entire evening has been extended. Most restaurants close by midnight so the opportunity for dining is short. After that, you may find yourself eating at Vips, the Denny's of Spain.
San Sebastián turned out to be shifted even earlier. On this first night out we didn't leave the apartment and make the two-block-stroll to Goiz-Argi until 9:30pm. By 10:30pm, many pintxos bars were already sweeping up and stacking stools. Weekend nights are the exception. Patrons spill onto the streets until midnight (though not much later) making it impossible to even consider entering. On a Saturday night attempt to return to Goiz-Argi, we were shooed out by owner as we tried to squeeze in past the hordes and had the grate pulled down behind us. No nonsense.
Goiz-Argi * 4 Fermín Calbetón, San Sebastián, Spain