Town House, off I-81, past a McDonald's, over a bridge and train tracks, blends into the row of businesses along Main Street in Chilhowie, Virginia, population 1,688. One doesn't end up near the nexus of Virginia, North Carolina, Tennessee, and Kentucky by accident. I went on a Labor Day weekend, just because I could. For me, one of the best parts of growing older (I've been under the delusion that middle age was one step away from death, but apparently it now kicks in at 35) is being able to do something on a whim for no other reason than I want to. (Next half-baked urge to make reality: eating ceviche and lomo saltado in Lima.)
Bolstered by creativity and obscure location that's gastronaut-bait, Town House would fit in nicely with the up and comers featured in the recent Wall Street Journal article about restaurants on the verge. (I know you didn't ask, but I was surprised to see that I'd been to two of the eight: Benu for my last birthday and El Cellar de Can Roca way back in 2006 before it had three Michelin stars.)
You start with a leaf. The only thing edible in this assemblage is the curved, dewy leaf. Both more minimalist and maximalist than the single lettuce leaf that opens a meal at Blue Hill at Stone Barns.
Chilled Vegetable "Minestrone." This is the dish that first got my attention in other posts and articles. I love rainbow food, whether naturally occurring or chemically induced. The curls of many-hued vegetables didn't just catch my fancy; a photo of this dish appears on the cover of the 2011 Opinionated About U.S. Restaurant Guide that they were handing out to customers as they left (apparently, they'd been given a box and didn't know what to do with all the books). Extremely purist while fanciful rather than stark. This would be a good dish to play a how good is your palate, vegetable guessing game.
"Gazpacho" of Summer's Foliage. More quotes. The only way this could taste more green would be if moss was involved. Shiso, green bean leaves, zucchini, and pickled coriander were all present. A granita hidden by the leaves tasted of green tomatoes, and created a contrast of temperature and texture.
Barbecued leeks. Only now that I'm thinking semi-analytically about the food instead of simply eating it, I'm seeing how color plays such a strong role. This dish looked, smelled and tasted of cinders and contained something called smoked mussel "ash." Charred leeks, hazelnuts, and those mussels were half-smothered by a cool pile of melting gray fluff. This was a stand out.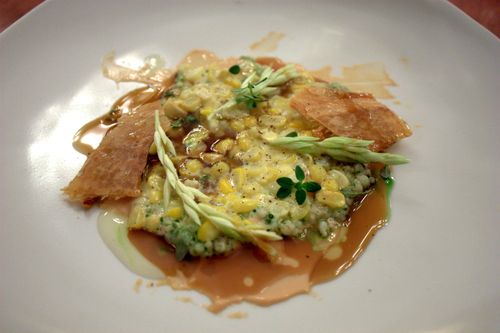 Sweet Corn, Chicken, Lovage & Oats. The oats make it sound so wholesome. The chicken skin—which I love seeing instead of the ubiquitous pork—took care of that.
Abalone in Brown Butter & Butter Whey. All the burnished browns and golds didn't prepare me for the lime leaf that perfumed the seafood (a scallop was also in the mélange) and softened onions. Deceptively Thai-flavored.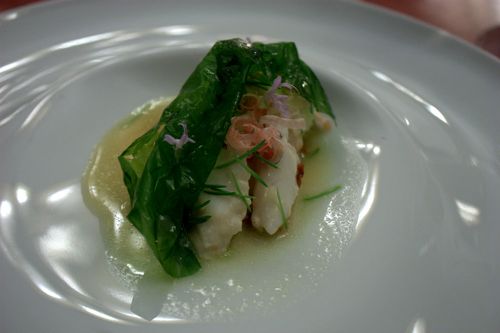 Turbot Cooked With Cream & Spruce. I knew it! Those pine needles were bound to show up at some point. The sappy flavor, though, was as delicate as the fish.
Beef Cheek…Pastoral. This was one pretty plate of overflowing trends. Grass is there (I want to say that chlorophyll was also mentioned, but maybe I'm blurring that with the phytoplankton at Blue Hill at Stone Barns) and hay infuses the translucent milk skin draped over the meat. What really startled me was the shredded beef tongue floss. This was the third time I'd encountered what I had originally thought was an unusual preparation in four months! Mugaritz, Castagna, now Town House. Where next?
Border Springs Farms Lamb Shoulder. More striking color. Beets, smoked, dried, and blended with licorice to form a "Bolognese," were as prominent as the red-glazed peak of meat.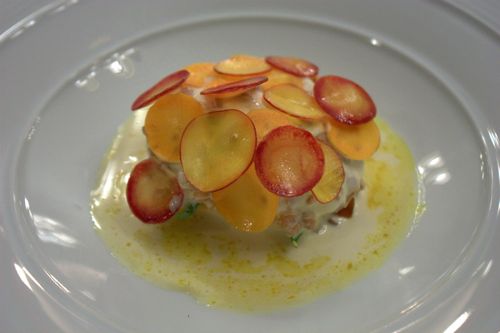 Cantaloupe & Toasted Farro. Ugh. I shudder every time I think of this beast of what I think is considered a dessert. This was the worst dessert ever! Not objectively, of course. I just happen to hate melon (listeria will not get me without a fight). I know that savory meal-enders are in fashion (that long pepper, ginger thing at Castagna also sent me into fits) and I enjoy seeing the boundaries that chefs tinker with (especially in our cupcake, whoopee pie, and other Americana-crazed sweets climate) but these sensory clashes are still like art to me, and more appreciated than loved. Thin carrot rounds top a mound of ice cream studded with chewy grains and flavored with ginger and wild sassafras. The cantaloupe hides inside ready to spring out and terrify. Turmeric creates the yellow swirls. By the way, at Blue Hill at Stone Barns, a similarly textured dessert also contained cantaloupe, but semolina instead of farro. Someone's trying to kill me with creativity.
Broken Marshmallows. Also unorthodox, but melon-free, hence more likeable. I'm perfectly fine with geraniums, cucumbers, green strawberries, and stiff, sticky whipped cream masquerading as a dessert.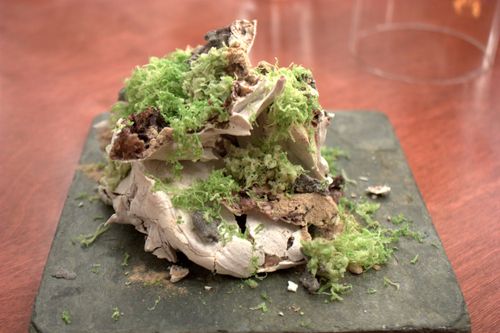 When you think you'd eaten everything, a meringue-like chocolate stump is presented to eat with your hands. The green wasabi-and-lime tufts add spicy-tart intrigue.
The food is so colorful, yet the room is so brown. No distractions.
Town House * 132 E. Main St., Chilhowie, VA