Did I love it? Not so much. There was an overall feeling of stinginess despite attempts to project sophistication.
Despite springing from the verdant fir-y loins of Portland just like me, I've never eaten at a McCormick & Schmick's before (I thought I had but that was the lovely Washington Square Newport Bay with the panoramic view of a cemetery). If you're northwestern, patronizing such chains just isn't done. However, if you're northwestern and find yourself at a mall in Bridgewater, New Jersey looking at Crate & Barrel beds, there's much less shame.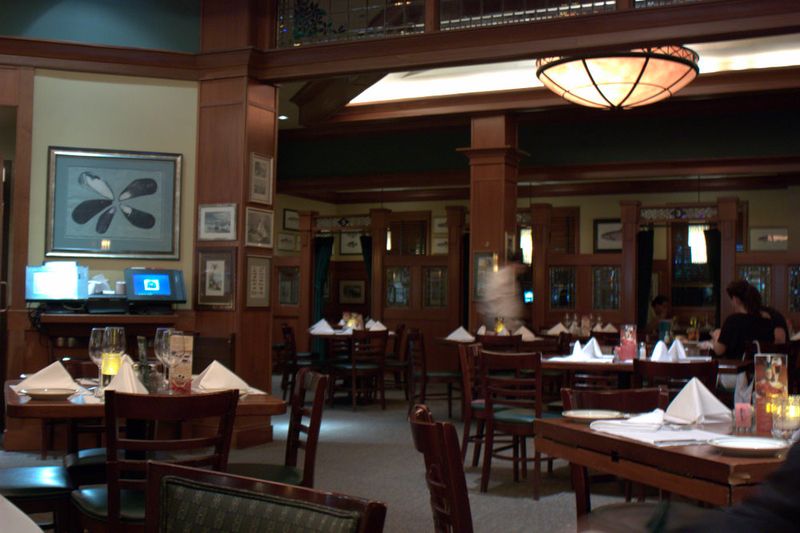 More upscale, i.e. expensive, than a Red Lobster and stodgier than a Bonefish Grill, stained glass depicting a Revolutionary War cannon, banker's visor green drapes framing the coveted booths flanking two dark wood walls, an endless Alto sax soundtrack and a tray of shellacked desserts to entice tableside, evoke another era, perhaps the cusp of 1990. The naming of each fish's place of origin is very 2000's, however. The napkins are cloth though the wooden tables are bare, a distressing cost-saving trend we noticed on our last Bonefish visit. I'm paying for class! Another nod to new frugality was the absence of bread and butter unless asked.
I try to avoid filling up on empty carbs but briny, white wine-spiked broth shouldn't go to waste even if it was almost too salty. They also come with a little  container of popcorn butter. Don't feel bad about summoning bread to accompany the steamed clams. The portion was a little skimpy for sharing and two mollusks didn't open, acting as accidental server kryptonite. No one would touch or remove the bowl thinking we hadn't finished yet. I suppose I prefer the just in case leave over the overzealous grab.
Judging from most of our fellow diners, largely 40+ twosomes and a big group celebrating a birthday, 90% who cleared out by 9pm, soda in glass tumblers is the beverage of choice. I'm a weirdo who drinks wine at chains (fast food restaurants adding alcohol is a growing trend so clearly I'm not that weird). A 5-ounce Pour of a Chilean (Haras Di Pirque) Sauvignon Blanc with the clams and 8 ounces of Chateau Ste. Michelle Riesling, which seems to be standard chain Riesling, with my entrée. No, I'm not an oenophile. I don't even have a problem with Charles Shaw.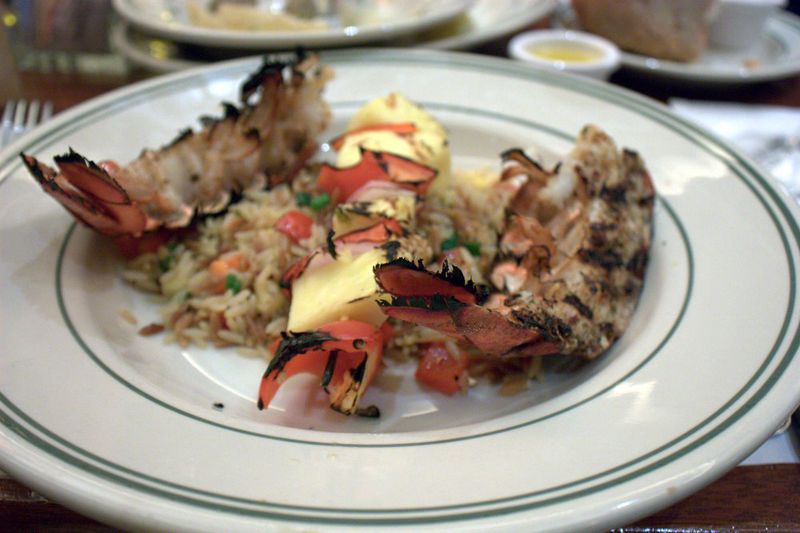 I've been wanting to buy live lobsters from the Red Hook Lobster Pound but they were already sold out by the weekend and I hate to admit I'm a little squeamish about killing a creature (cleaning live soft shell crabs nearly a decade ago traumatized me slightly) so I was drawn to the summer lobster section offering three choices. I should've just gone with the traditional whole lobster but wasn't up for lots of messy cracking. Instead, I tried the Caribbean grilled lobster tail with tropical rice pilaf. The bits of meat I managed to extract were sweet but had a not wholly pleasant bitter dirt-like spicing perhaps allspice in the jerk-y blend. At least I managed to eat chain seafood and avoid the breaded, fried and heavily sauced, August's self-imposed mandate is light and low in starch, though I can let the occasional slice of bread and scoop of rice slide.
I wouldn't call M&S particularly good value (appetizers could stand to have a dollar shaved off and I would be more comfortable with entrees losing about $4) and it didn't provide the breezy level of fun I crave from a chain restaurant. This is a case, where an independent seafood restaurant may have been the better choice, though I don't know that any exist in the vicinity. We played with the Urbanspoon app in the Apple store and all the shaking provided no deeper insights.
In short: Portland, Oregon-based seafood restaurant founded in 1979 with 85 locations in 26 states.
Pacing: This is an important chain benchmark for me. We are slow eaters and I like to see if a restaurant will go with the flow or stick to a prescribed regimen. At M&S our entrees were brought out while the appetizer was still on table.
Hard sells: No reciting of specials. Loyalty card applications are on table.
Signature dish: None that I'm aware of, but they do emphasize the fresh and seasonal.
Oddball item: Nothing too glaring, perhaps the spicy tuna "pizza" using wasabi mayo and avocado. There is also a section of five dishes called New Jersey Seafood Classics, that includes not super-regional things like fish and chips, crab cakes and fettuccine alfredo.
Cons: Being called ma'am maybe ten times. No female in their 30s should be called ma'am. (I just reached a restaurant scenario on my Spanish language mp3 that involved a husband correcting a waiter calling his wife senorita instead of senora, miss rather than ma'am. "This is my wife and the mother of my children!") Take note. This is what a ma'am looks like to a 12-year-old playing an orphan half his age. The actress playing Ma'am a.k.a. Katherine Calder-Young Papadapolis was 43 when the show aired.
McCormick & Schmick's * Bridgewater, NJ