When the only patrons of South Asian descent happen to be men at the bar and a party in the subterranean banquet room, signaled by music chiming up the staircase, beats vibrating beneath your feet, and the occasional celebrator coming up to use the bathrooms, it doesn't instill much confidence in the food. However, only two parties of two in the dining room does mean that both get to commandeer the pair of banquettes along the wall.
The point of Taste of Cochin was trying Keralan food, which locally only seems to exist on the Queens/Long Island border. It's a minefield of chicken tika and buffet fare (lunch-only) which I imagine fills the tables during the day. I went into this fairly blind, so my observations aren't exactly well-informed. (I go nuts when I read others writing naively about cuisines I don't think are obscure—last night, it was a British person on a Berlin food blog being confused about Colombian food, though realistically, why would they know anything about Colombian food?)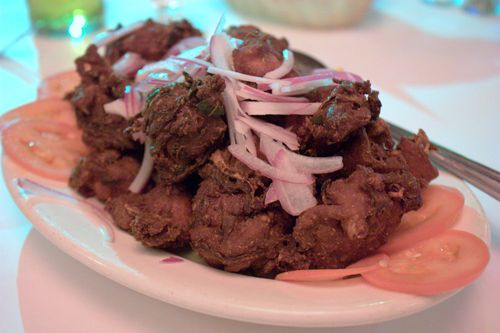 Who knows the origins of chicken 65, heavily seasoned fried chicken chunks that we were warned away from because of the bones. I wasn't expecting chicken nuggets, but I did get the gist later when it became apparent that these bits had been hacked willy-nilly and were more like eating catfish.
It was determined that Malabar fish was Keralan. I wasn't convinced that our waiter, overly helpful, and a little misguided, understood that we truly did want the fish curry to be spicy. It's easy to get burned when a large number of diners aren't native eaters of a cuisine. They won us over, though with a heat level not tempered in the least, the kind of heat that spreads through your chest and warms from the inside out. The flavor wasn't all fiery, but smoky too, adding an unexpected campfire quality. I could've sworn we were told the fish was sea bass, and the white flesh was very firm, so firm it made me wonder if it was not smoked and canned. I also wonder if kodampuli, a dried, smoked fruit traditionally used in Malabar curries had anything to do with the smoky aspect.
The vegetables, in a coconutty sauced tinged with turmeric, were also unusual in that they not only used okra, but also long, fat strips of yuca that looked like potatoes until you bit down and got that fibrous chew. Also a hot dish in spite of the deceptive creaminess.
We went back and forth over whether we wanted basmati or southern rice. Whatever would go with the other dishes. "So, you want basmati?" then "I'll bring you southern rice." Um, was this Uncle Ben's? Ok, I do see that "fat rice," which this was, is eaten in Kerala, but it definitely wasn't red.
Taste of Cochin is weird like that, almost as if you're in a foreign country and it's not clear if the oddness is caused by you or them, but it's all fun in the end. Our waiter who is a regular at Mohegan Sun was discussing the new Aqueduct casino with the ladies next to us who had just been celebrating a birthday in Atlantic City. By the time we were ready to leave, one of the women who didn't live in the neighborhood either (I don't know how else you'd end up there) told me she had came from Burlington Coat Factory (where we'd also just been–I didn't want to say anything because I didn't want to come across as a Burlington Coat Factory snob—the worst kind of snob—but it was the most busted, like a '70s Sears from my childhood, store I'd been to in at least a decade. After this early dinner we went to the Rego Park Center with a modern Burlington Coat Factory and the best Century 21 in existence) wanted to know what I'd ordered (she had a chicken curry, extra spicy). Then the waiter gave me two rolls of toilet paper to take into the ladies room because he'd just been told they were out. It was locked, so I put the rolls on the ground outside the door and the waiter suggested I use the men's room, which as soon as I shut and locked the door was being banged on by a male partygoer who seemed horrified when I emerged. But hey, the leftovers were good the next night.
Taste of Cochin * 248-08, Union Turnpike, Bellrose, NY