Shovel Time: Huber's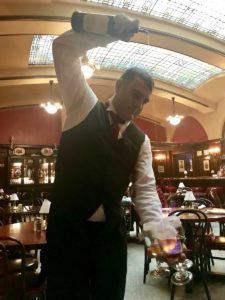 Huber's is not yet a dead memory, so there was no need to rush or even feel remiss that I had never been to this restaurant that claims to be the oldest in Portland, born in 1879. I mean, my mom who has been living in Oregon for ages and my grandma who has been here since the late '70s (1900s not 1800s) hadn't been to Huber's either.
I wasn't under the impression that food–maybe minus the year-round turkey dinners–was this downtown stalwart's calling card. The draw is the Spanish coffee, ideally served in the bar room, full of dark wood, framed with arches and lit by curved ceilings with glass inlays. I can't think of another restaurant in Portland that is such a preserved period piece, and it's a palate cleanser from all of the aesthetically pleasing white-washed tones, natural fibers, and succulents that blur together.
I had a turkey monte cristo sandwich that was neither here nor there. I do appreciate that monte cristos in Oregon are not served open-faced as they are in New York. 
Tools of the trade, plus a not-so-subtle clue about expected tipping. We all had Spanish coffees made tableside by a seemingly bored gentleman of Eastern European descent. I don't blame him; performing the flaming ritual over-and-over for visitors with guidebooks probably gets old.
You have to admit flames are fun, though they don't typically add anything flavor-wise.
The Spanish coffee was grandma-approved.
It appears that purple streaks run in the family.
Huber's * 411 SW 3rd Ave, Portland, OR