Tim Ho Wan is famously the cheapest Michelin-starred
restaurant on earth. At least the original Kowloon location is, but there was
no way I was testing out the blog-chronicled two-hour-waits while on vacation.
I get enough of that nonsense in NYC, thanks. The snazziest branch is on the
Hong Kong side of Victoria Harbour in the IFC mall. I went for the
lesser-trafficked Kowloon location (The Guardian recently filmed a video there)
a bit higher up the subway line in Yau Ma Tei, which appeared to be a district
made up of blocks and blocks of toy and children's clothing wholesalers.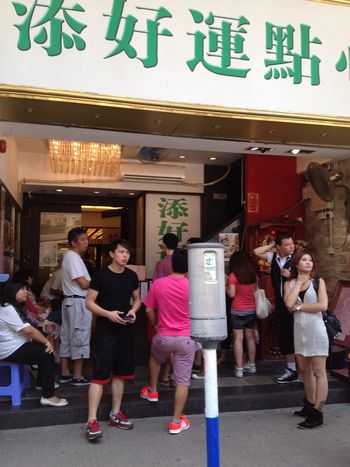 There was still about a 15-minute wait, but not so
bad.
This is dim sum, by the way, non-skippable in Hong
Kong even if only in town for two days like me. I couldn't even tell you the
best because there are just so many choices and it depends on if you want luxe
or old-school; many fall somewhere in the middle, and most now serve fresh dim
sum cooked on demand after checking boxes on a piece of paper instead of the
cart method that Americans have grown to like.
Often a restaurant is known for a specialty or two.
At Time Ho Wan it's undoubtedly the place for pork buns with a crackly shortening-and-sugar
enriched topping that bakes down into a barely golden, flaky crust. A softness without
fluff. I'd say they're a relative of the Mexico buns I was obsessed with on my
last Hong Kong visit. I don't consider buns chopstick food, but tried to do as
my fellow diners, using the little bowl to park it and taking awkward nibbles
before I dropped the floppy mound onto the spoon.
Hong Kong is modern, British-influenced, and all
that but there is still a substantial language barrier, and outside of the
central areas, foreigners still get stared at like you're in rural China or
something. I felt the eyes, and then a heap of trouble arose when I tried
asking for chile sauce for the shrimp dumplings.
The table next to us, which being separated by
half-an-inch meant we may as well been dining with the middle-aged couple, had
a dish, so after futile attempts at asking for chile sauce I pointed at theirs.
And what I ended up with was the only thing on the fairly short menu that I
really, really didn't want to eat. I'm not crazy about eating flowers, but go
along with it at high end restaurants since it's en vogue and unavoidable, but
not with my dim sum! Um, so three wedges of the so-called Tonic Medlar & Petal
Cake were given to me. It's basically Jello with chewy bits of…I don't even
know. Apparently, medar is a fruit but these were dried petals and I think wolfberries suspended in
gelatin not fruit. Anyway, it was fine, and I ate it, but it was no cake and
did nothing for the Chinese dessert image problem.
Shrimp rolls. I should've gotten the pork liver
version, but it slipped my mind.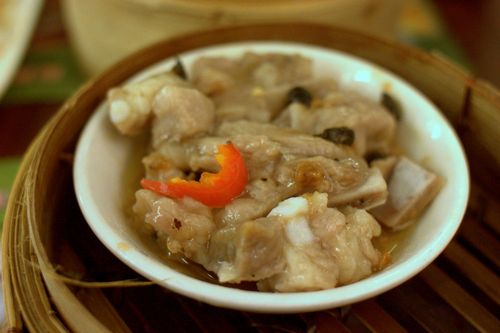 Spareribs with black beans.
I briefly considered getting another order of pork
buns to go, but after than medlar mishap I wasn't taking any chances.
Tim Ho Wan * 9-11 Fuk Wing St., Hong Kong